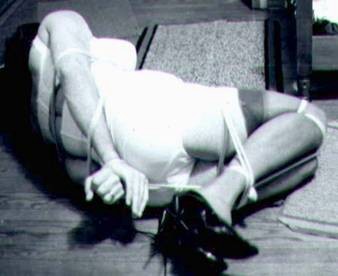 Many years ago I was attending a five-week course in southern Virginia. Because it would be so long and motel rooms get to me in a few days, I rented a little kitchenette in an old motel out on Old Highway 1. In addition to greater convenience and size, it also provided privacy; none of my classmates wanted to go "clear out there". The latter is probably the real reason I stayed there. It wasn't fancy but with maid service every Saturday morning, it was clean and very private.
One Saturday evening I decided to take some photos myself in bondage. The camera and flash were set on a tripod and a 20-foot extended shutter release bulb attached to the camera and positioned on the floor where I was lying. My outfit was all white, a well filled 36D bra; waist cincher around my waist bringing it down to 26 inches, (my was that a long time ago) and pure white panties stretched snugly from hip to hip, 38 inches, over a white garter belt. The nylons were an off-black with just a touch of vamp added by a pair of 4 inch black pumps.
The position for the first photo would be the hogtie, one of my favorites. Starting with the ankles, my legs were also secured below and above my knees and my thighs. To make it a little more binding, my ankles were secured to the back of my thighs with two turns of rope. Tied in this manner, the legs are like a big knob and can only be moved about the waist. Several strands of rope just below the bra and several more about my waist were tightened so that my arms could just barely be squeezed into them, but before doing so a ball gag (white of course) stretched my jaw and was tightly knotted at the back of my neck. The final touch was securing the wrists.
One end of a short braided nylon rope was tied to the rope around my ankles and the other was made into two concentric loops with a slip knot. When both wrists were put through both loops and pulled against the ankles, it felt very secure. Because nylon will give a little, I can usually work my hands loose with a little effort when I want to get out of my bondage. As a backup I usually had a knife within reach; however, when things go smoothly for a long time, a person tends to become careless: no knife!.
After snapping the picture I decided to free myself by slipping my hands out of the double loops. It didn't take long to realize that I was caught. The two loops of rope were between the bump on my wrists and hands. Having never used braided rope for my wrists before I did not realize that it does not stretch or slip like twisted nylon. With all of the struggling to get into position for the photo, the rope to the ankles had caused the slip knot loop to be pulled very tight. With the ropes holding my arms tight against my back, there was no way to get loose.
I began to twist and struggle and wiggle, but none of the ropes loosened even a little bit. After what seemed like forever but was only a few minutes, I was wringing wet and still very tightly tied. The only motion I could make was to bend a little at the waist and roll a little.
Slowly, I began to realize my situation: wearing a very tight effective gag through which I could only moan, the maid wouldn't be in for another week, my classmates didn't even know where I was staying. Panic and fear were coming on pretty strong and struggling was useless. The ropes seemed to be getting tighter and the floor harder, everything was beginning to ache.
I rubbed the ball gag against the floor trying to force it out of my mouth, but it didn't help; my jaw just ached more. The kitchen knives were a long way away, through a door and up in a drawer. There was no way to get to them. I considered knocking the TV (television) stand over, hoping the fall would break the picture tube and then using the glass to cut myself loose. It was the only chance to get out of what seemed like ever-tightening ropes, but it was turned on and I was afraid of being shocked.
Then I remembered that in my jeans pocket there was a small penknife I had found that afternoon. The jeans were lying on a chair about eight feet away. With ropes holding my ankles to my thighs and more ropes keeping my arms tight against my back and my wrists securely attached to my ankles, eight feet was a very, very long way. But now with some hope and a goal, the panic was beginning to fade.
Finally wriggling backwards to the chair, I pulled the trousers to the floor. I started to go through the pockets, but with my fingers starting to tingle and working behind my back, it was slow going. Again no knife, the knife wasn't there. After going through the pockets three more times the feeling of helplessness and panic started to grow again. The Knife wasn't there!
I really started to think fast. What was on or near the floor that I could get to cut myself loose. The TV set idea still scared my because it was on and I couldn't be sure it wouldn't land on me, and if it did, wouldn't break, or if it did break I would be electrocuted. My only hope was to get to the kitchen drawer, but to do that some of the ropes had to go. After what seemed like the best effort I could muster, I got the rope around my ankles and thighs hooked on the corner of the bed frame. By lurching and wiggling while pressing my ankles as tight as possible against my thigh, I finally slipped it over my knees. It wasn't much, but that little bit of freedom was wonderful.
With that additional movement available, my head against the side of the bed and a lot of struggling I was able to get up on my knees. In that position I could scoot the 20 odd feet to the kitchen, pushing the door open as I went, hook the ballgag rope on the knife drawer and dump it on the floor. The 20 feet looked like the last third of the Boston Marathon but it was my only hope to get free. It had to be soon because there was no feeling left in my hands.
Before starting on the long journey I happened to look back at the jeans on the floor. There it was; the penknife laying on the floor next to my jeans. It must have fallen out of the pocket when I pulled the jeans to the floor, but since I wiggled up to them backward, the penknife was hidden from view. It must have been difficult to open it without any feeling in my hands, but I don't remember for in a very few minutes I was FREE, sore, exhausted, and very, very relieved.
Since that time I have been much more careful with my self-tying, but I must admit it was a very exciting experience. Once it was over I realized that I had experienced the ultimate in helplessness, being tied without any possibility of release.
04.04.07