Gromet's PlazaSelf Bondage Stories
Arm Leg Tie
by Bondage Life
The article is reproduced here for information, education & dissemination purposes only.
WARNING - Do not attempt to use these techniques without adequate back-up, anyone who attempts to use the techniques, ideas or suggestions shown here in may result in injury or death.
If you're unsure about it - then don't do it!
Arm Leg Tie
A 101 guide on how to bind yourself and survive
1.) Prepare 2 coils of rope, belts, nylons or what ever and place them just above the knees.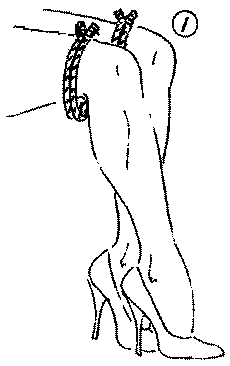 2.) Tie the arches securly and attach the special ring device and cinch noose.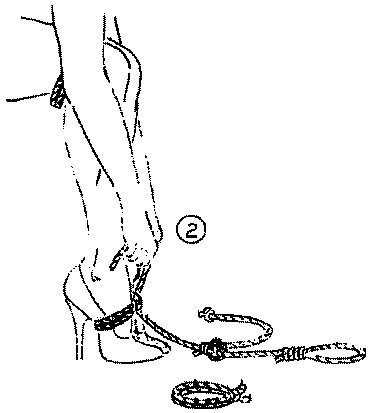 3.) Apply a gag.
4.) Force your arms through the knee coils. The coils should be snug but NOT tight.
5.) You will have to manipulate the wrist coil, cinch noose, and pull cord at the same time.
6.) Cinch up the noose.
7.) Tighten up the ring device.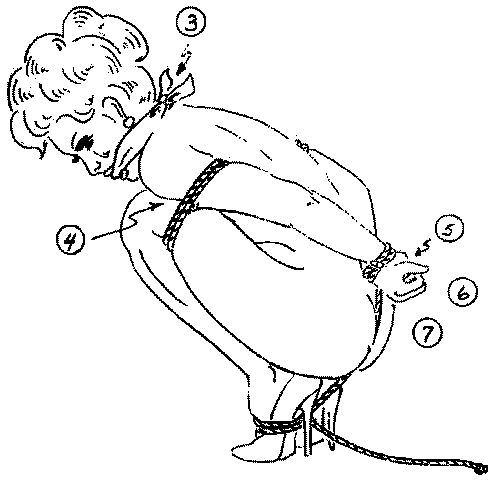 8.) Be careful not to hurt yourself when you tip over!
9.) If you are applying the bondage to a favorite victim add a blindfold for complete helplessness.
These images orginally appeared in a magazine called Bondage Life
Thanks to Lillian's Nexus for these pages
See Also